Oil & Gas
Financial Journal
July 13, 2012 - An article by
Angela Tuzzo, MRB Public Relations
Case study: Tilley Pressure Test expands business with document management
Few industries produce as many critical business documents as exploration and production operations. This is especially true with recent regulation changes .......
read more
Mission
Statement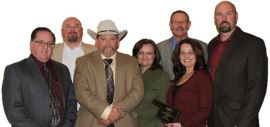 The Tilley promise:
Tilley Pressure Test, Inc. is dedicated to providing superior NDT services by consistently improving the quality of our testing products; to add value for clients through technical innovation, foresight, integrity, and aggressive performance; and to serve with character and purpose.
read more
setting
Standards
Tilley Pressure Test is proud to be an ISO 9001:2015 certified company. Our employees are dedicated to quality, service, and continually improvement.
The ISO system helps to organize, standardize and control operations.
ISO Registrar Audit Certified July 25, 2011
TPT Internal Audits 9 Comprehensive internal process audits
Platinum Registration (3rd party registrar) performs extensive audits annually at each facility to ensure ISO standards are being met.
Management Team
CORPORATE
Jimmy & Kimberly Tilley, Owners/CEO - 580-470-9492
Brian Stewart, COO - 580-470-9492
Vance Taff, CFO - 580-470-9492
Jeff Johnson, Project Manager - 580-470-9492
Clay Howell, Internal Auditor - 580-470-9492
Current
Services